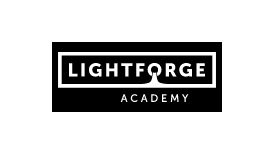 The LightForge Academy is a new, dedicated training facility in Doncaster and London.
LightForge Academy will offer local students aged the opportunity to work in the dynamic, creative industries by giving the targeted training required to get those dream jobs.
LightForge Academy is industry led and provides hands on courses and soft skills training for students and graduates that respond to growing need for creative and technical expertise in the Film, TV, Games, AR/VR and VFX industries.
Taking a course with us means you learn not only core technology and working practice but also gain an understanding of the fundamentals of how to work as part of a team, take and give feedback and communicate effectively. Rather than a traditional classroom set up, LightForge Academy students are taught by industry experts in an environment that mirrors the physical and technical set-up of a real-life studio environment.
We are also passionate about shaping our student's careers and offer dedicated career guidance, and where possible introductions to potential employers. With an industry-wide skills gap, now is a great time to make a start in this highly competitive industry and we would like to help you fulfill your future aspirations. If you would like any further information about our courses, please do not hesitate to contact our Sales & Placement Manager Naomi Turner, naomi.turner@lightforgeacademy.com.
---
Products

A combination of online and practical experience has been designed to deliver information quickly, accessibly, and vocationally – to ensure that the QA arm of LightForge Academy trains and develops testing gods of the future!
Along with face-to-face support students receive from incredibly experienced tutors during the 9-week period, the LightForge Academy uses a trackable, gamified and progress-restricted platform to deliver lessons and topics to the students. Quizzes are used to supplement the online learning and tutors can submit feedback from physical lessons throughout the day. All data is tracked on the student's personal profiles and their course progress and achievements, and progress badges are all there to see day by day.
The QA course also incorporates a week's work experience, which will take place at a developer's office. Students will gain invaluable 'on the Job' knowledge and will see for themselves what it's like to be in the thick of testing a game in development.
Reviews and Ratings
We do not have any reviews about LightForge Academy available right now.